Writer rushed in where writer feared to tread
Well friends the e-book/Kindle book of Dear Prudence is now available! I'll say once again if I haven't said it before, I am in L-O-V-E love with the cover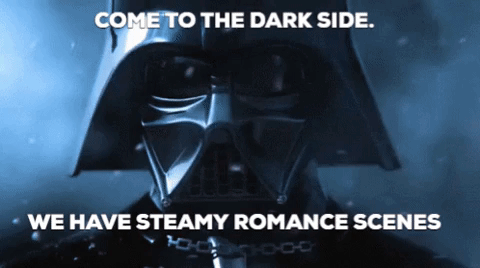 designed by Extasy Book's artist, Martine Jardin. But, I have more good news (I've been sitting on this one). Extasy will also be publishing my second book, Her Name Was Lola sometime in 2024! That one's in the early stages of in-house editing, but as you may well surmise, I'm blown away by their faith in my work.

Now comes the hard part: marketing. I made a lot of expensive mistakes at every stage of my superhero writing journey, from paying amateur beta readers to shelling out a lot of money for advertisers who promised sales and didn't come through. Ultimately, the books did reasonably well I think, but that might have been regardless of my efforts, not because of them. I banged on a lot of virtual doors, begged for reviews, and went to signings and book fairs. This time, I think I made some better decisions (certainly less expensive ones, at any rate). However, I have what may be disappointing news:

I've joined TikTok. I've gone to the Dark Side. I resisted that platform for as long as possible, but that's because I'm old. Personally, I usually like to read about books rather than watch videos about them. But I've heard that's the best platform for getting my books "out there." Indeed, a few people have commented on my videos, saying they were about to or already had pre-ordered e-books or ordered paperbacks. I must be doing something right, sort of. I usually get about two hundred views per post, which apparently isn't a lot. I've yet to figure out how to "go viral."

Most of my videos are stock images I've woven together via the magic of a couple of other apps. It takes a long time to make a twenty-second video! If you're interested in checking them out, go here. My handle is paperback.writer3. It's pretty much books and my cats.

Enough about my woes. So, Dear Prudence is a friends-to-lovers romance about two people trying very hard to find a sense of independence in their lives, and a relationship is the last thing they want. I'm very happy to report that so far, the few reviews that have come in are positive. My favorite is:
Memorable, thoughtful, and entertaining, author Karen Janowsky's "Dear Prudence" is a must-read contemporary romance novel. The slow-burn relationship that builds between these protagonists and the complex life backgrounds for them both, from the abusive ex who won't leave her alone to the overbearing parents with a future carved out for their son, a fate he wants no part of, made this a compelling read.
Her Name Was Lola
is an age gap, grumpy/sunshine, enemies-to-lovers story about a young woman who's about to graduate college and is in a hurry to become what she thinks of as a "real adult." The man in this story is (you guessed it!) a professor. Someone she spent an upsetting, humiliating night with and never expected to see again.
Except,
she's his new research assistant. He wants tenure very badly, and because of a strict non-fraternization rule, he can lose his entire career if word got out about them.
Except
(you guessed it again), they have a hard time keeping things professional.
While that one's in the works, I've got a new idea I'm working on. I'm not sure it's jelling yet but it's early days. The two people who know about the premise thought it was hilarious, but that story's for another time. For now, I'd love it if you read Dear Prudence. If you do and you like it, please leave a review on Amazon and/or Goodreads.