Dear Prudence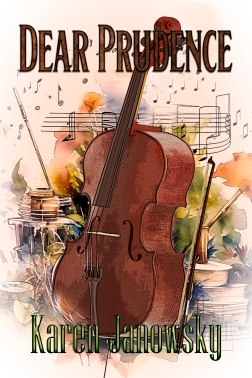 Published by Extasy Books
Pru Blum's life hasn't been easy, but working as a cellist with the Lower Georgia Symphonic Orchestra is her solace. She depends on her friends and uncle for support, but she's resolved to become stronger and more independent. However, avoiding her ex, Cliff, isn't easy…especially since he's a member of the orchestra too. His overbearing personality and unwanted attention stop her in her tracks each time she tries to move forward.
Shawn Levinson's life seems disjointed, almost as though it's someone else's. His parents adore and expect him to marry his girlfriend, Helena, and for him to work for her father's corporation. Deep down, he knows their relationship is a sham. Besides, sitting at a desk and wearing a tie forever isn't his dream. Whenever he tries to follow his own path, though, everyone dismisses his hopes as foolish. He doesn't have the strength to oppose two families, so he escapes to Georgia to work on his parents' retirement home and look for some clarity.
When these two lost souls literally collide, sparks fly, but neither wants the complication of a relationship. And Shawn hasn't mentioned anything to Pru about Helena. No matter how hard they try to distance themselves, they can't seem to keep away from each other. By the time they're ready to admit their feelings, their pasts and secrets are poised to blow up in their faces. Falling in love may be exactly what they need…if they can each get out of their own way.
978-1487439248 | August 25, 2023